20 Things To Do In Lake Tahoe In Summer – Summer Vacation Activities 2023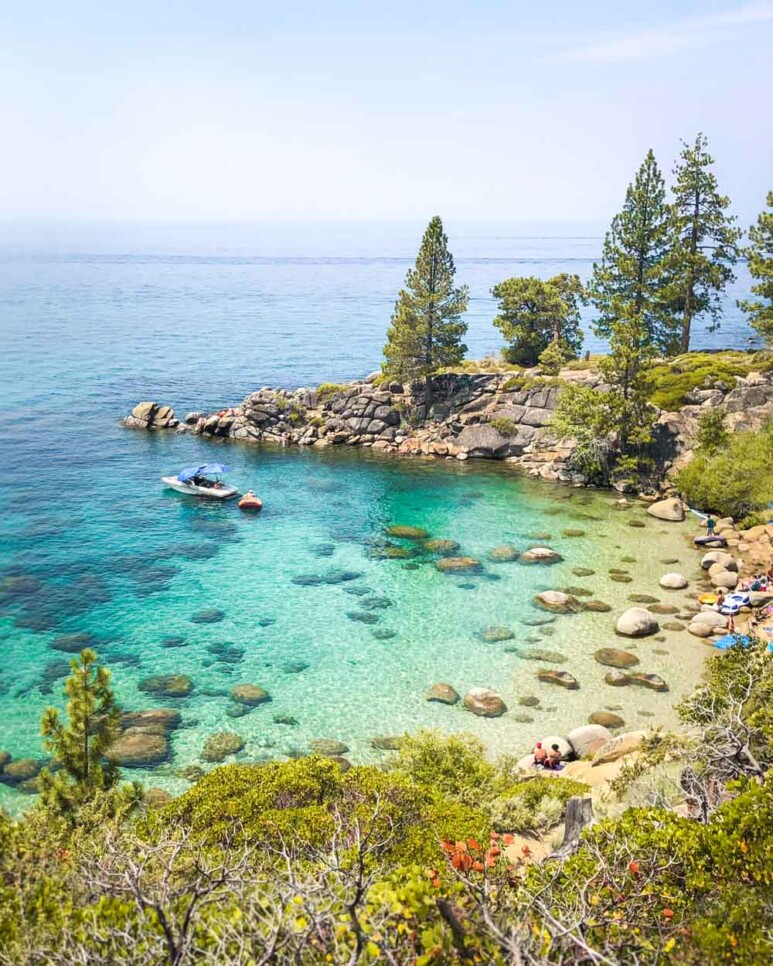 Disclaimer: This article contains affiliate links. Full disclosure here. As an Amazon Associate, we may earn a small commission when you use the links and make a purchase at no additional cost to you. We also run ads to keep this blog running. All opinions are always our own. Many thanks for supporting our website.
Lake Tahoe – The prettiest and bluest lake in California and probably even the entire US!
We love spending weekend getaways at Lake Tahoe. Besides skiing in winter at Lake Tahoe, we try to spend as many weekends as possible paddleboarding or doing other outdoor activities in the summer at Lake Tahoe.
In this Lake Tahoe Summer Vacation Guide, we want to show you our top things to do at Lake Tahoe in the summertime.
From the best lake views, camping spots, hikes, tours, and other warm-weather activities in Lake Tahoe to relaxing in hot springs and many more things that you can do at the lake during the summertime of the year.
---
Lake Tahoe Summer Vacation Guide
What To Do At Lake Tahoe In The Summer
Table Of Contents
Things To Do In Lake Tahoe In Summer
Lake Tahoe Summer Guide
Top Things To Do At Lake Tahoe In Summer
1 | Go For A Hike Around Lake Tahoe
One of the best ways to explore Lake Tahoe is to go on a hike. There are many different hiking trails around Lake Tahoe that lead you to waterfalls, amazing views, and beautiful nature.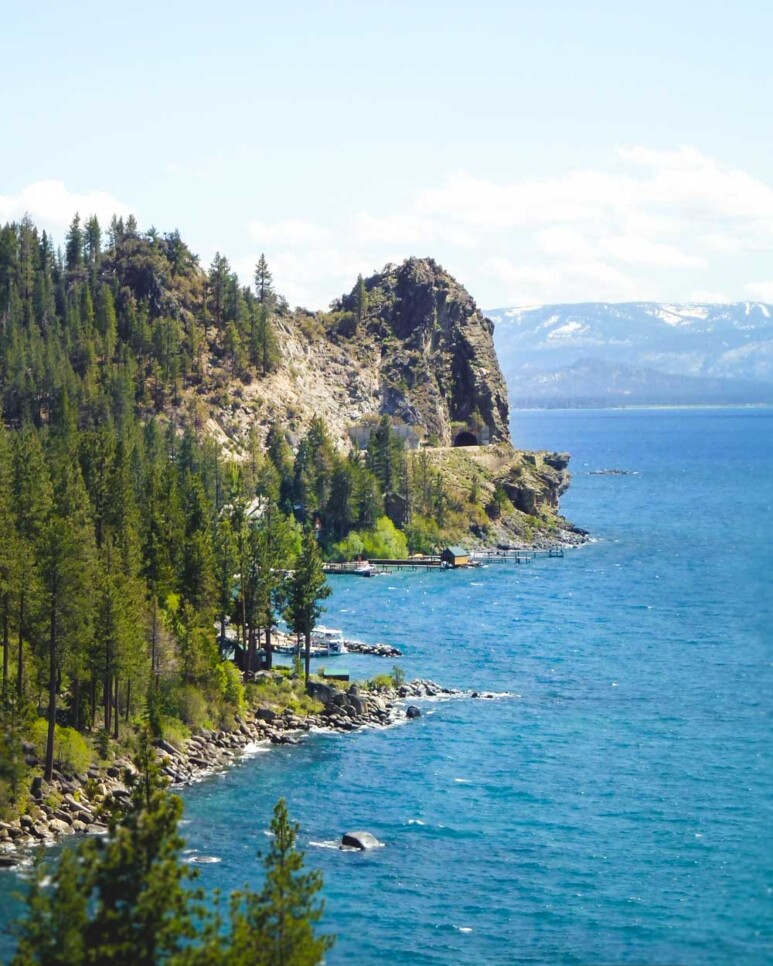 Cave Rock
A short hike that rewards you with amazing views over Lake Tahoe is the hike leading up to Cave Rock.
Cave Rock Nevada is located on the Southeastern shore of Lake Tahoe and is super easy to access from Highway 50. You can't really miss it! You will see the giant rock structure right away when you approach the tunnel that is right next to the lake on Highway 50.
There is a small parking area to park your car and from where to start the hike. Cave Rock is a popular hike in Tahoe, so chances to get a parking spot right away are better in the morning. Or maybe even come as early as for sunrise.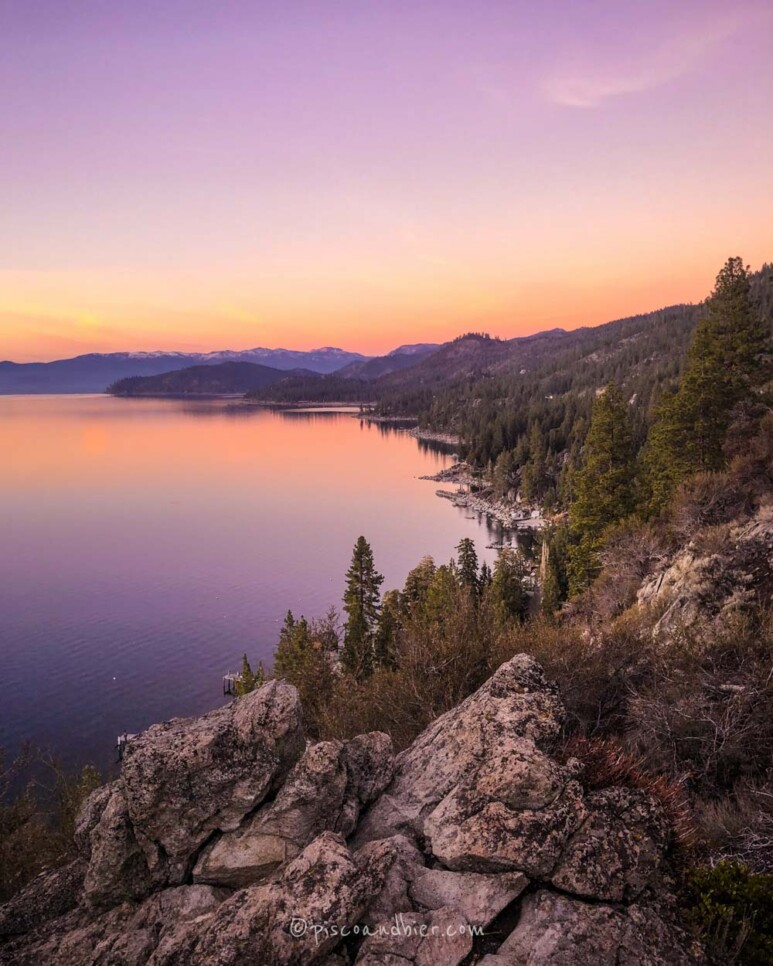 Watching the sunset over Lake Tahoe from Cave Rock will be amazing. The views are epic and the sky turns deep pink and orange!
---
Eagle Falls Hike
Eagle Falls hike is probably the most beautiful hike at Lake Tahoe. You look onto Emerald Bay from above with a cascading waterfall right in front of you. Eagle Falls hike is an easy but steep hike.
From South Lake Tahoe take Highway 89 North for about 8 miles. You will reach Eagle Falls Picnic Area where you can park your car (cash fee) and start the hike.
Hike To Eagle Lake
If you have it in you and continue further up on the Eagle Falls Trail you will reach Eagle Lake. The effort will be worth your while and the lake will greet you with an amazing mirror-like reflection of the surrounding boulders.
For the hike all the way to Eagle Lake you need to get a Desolation Wilderness permit down at the trailhead. Keep that in mind before you start the journey.
Summit Mt. Tallac
This hike is for the sporty ones. With a height of almost 10,000 feet, Mt. Tallac is the tallest mountain on Lake Tahoe's immediate shoreline.
Summiting Mt. Tallac can be done by fit people within a day. The hike is a 10-mile round trip. Check out the Mt. Tallac hike on Alltrails if you want to learn more.
Check out All Trails for more hikes in South Lake Tahoe and hikes in North Lake Tahoe.
---
2 | Explore The Beaches Of Lake Tahoe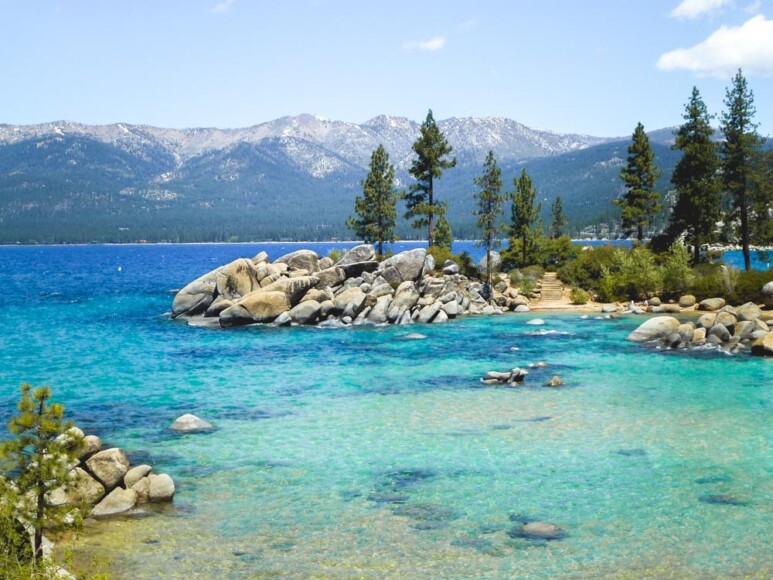 When in Tahoe in the summer, you must explore the beaches! There are a lot of beaches, some are rather secret or not so secret and others are very popular and well known.
Whatever area you stay in around Tahoe, there is a beach nearby. We have been to beaches on all sides of the lake, but our absolute favorite beaches are on the Northeast side of Lake Tahoe.
Sand Harbor Beach
One absolutely beautiful beach in Lake Tahoe is Sand Harbor Beach. You will find Caribbean-like crystal clear blue water and big boulders there, surrounded by green pine trees and a mountain backdrop. It's insanely beautiful!
Sand Harbor Beach is located on the Northeast side of Lake Tahoe and is easily accessible by car.
Pro tip: On the weekends the parking lot fills up at 8 am already. Yes, you heard right, 8 in the morning! Sand Harbor Beach is just so pretty, we can't blame any of these many people for wanting to enjoy it.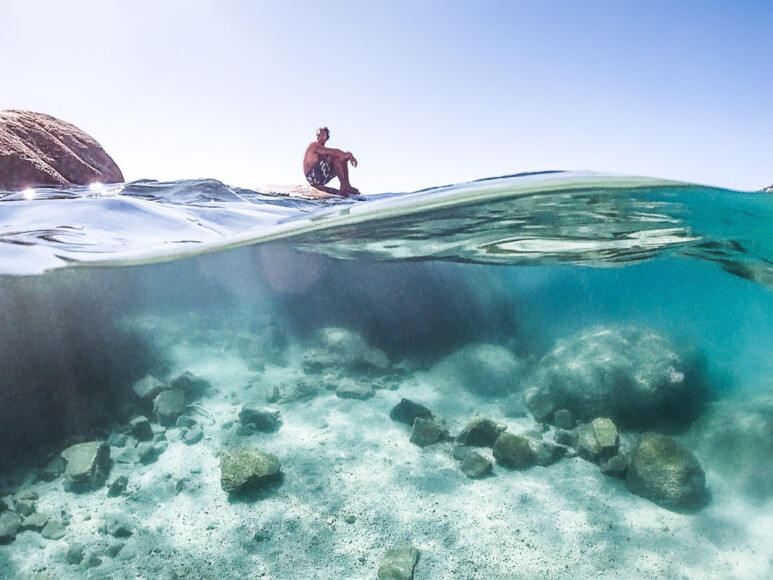 Other Beaches Near Sand Harbor
There are several little coves and beaches past Sand Harbor Beach on the Eastside / Nevada side of Lake Tahoe. You will encounter even more big boulders and jawdropping crystal clear, blue water there. It's like in the Caribbean, but mountain style.
Popular beaches on the Nevada side of Lake Tahoe are: Secret Cove, Chimney Beach, Whale Beach, and Bonsai Rock. These beaches are not as easily accessible as Sand Harbor Beach and require a little hike down some steep paths.
---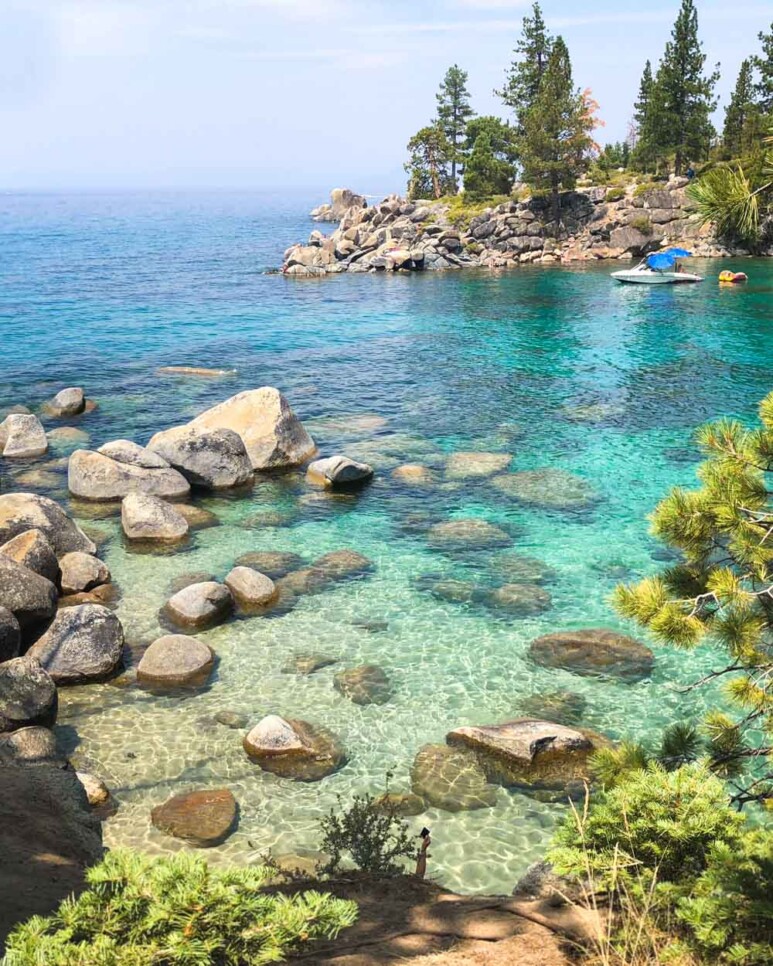 Take A Dip At Secret Cove
Besides Sand Harbor Beach, Secret Cove and Bonsai Rock are our favorite spots in Lake Tahoe to enjoy the beautiful turquoise water.
Secret Cove is a little secluded cove with shallow crystal clear blue water and big boulders.
(Just FYI, Secret Cove is clothing optional. So don't be surprised to see naked people when you get there! 🙂 )
Bonsai Rock is a famous big boulder in the lake on which a tiny little tree grows. It is located right next to Secret Cove.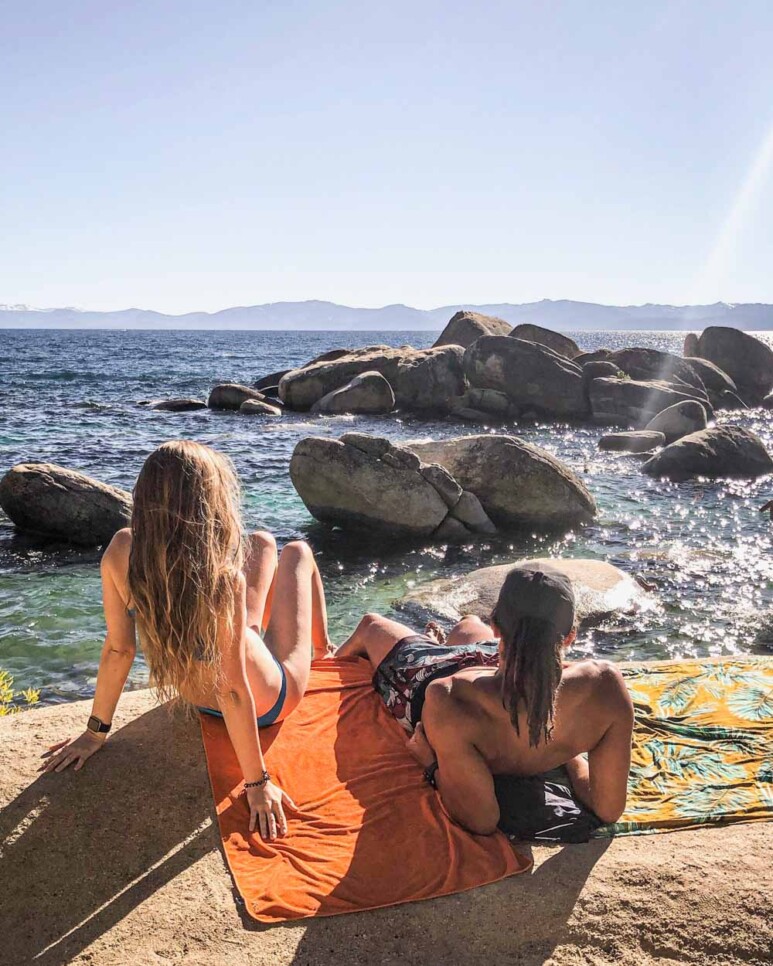 Getting To Secret Cove And Bonsai Rock
As mentioned, getting to these areas is not as easy as Sand Harbor Beach, because you have to hike down from the main street for about 20 minutes and there aren't really any marked trails.
Official parking around these areas is almost non-existent. There is a very small parking lot for Secret Cove, but it is always full. Like almost everyone else, you will have to park your car on the side of the road and make your way down to the lake.
It's not for everyone, as it can be pretty steep at times and you have to carry everything down and up again. However, to us, it is absolutely worth it if you are up for it.
---
Hitting The Beaches Of Lake Tahoe
Other than our favorite beaches mentioned above, there are many more beautiful beaches surrounding Lake Tahoe that are worth visiting.
3 | Rent A Kayak Or SUP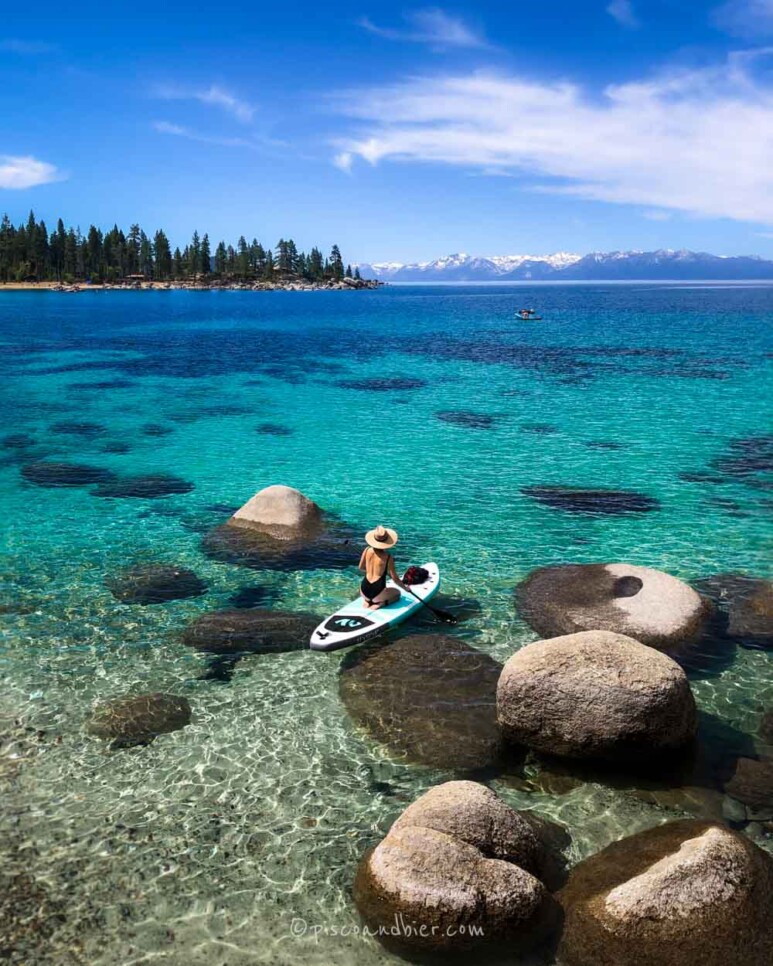 Even better than enjoying the beautiful Tahoe scenery from the beach is by exploring it from the water.
All around Lake Tahoe but especially at Sand Harbor Beach you will see people snorkeling, paddleboarding, and kayaking.
---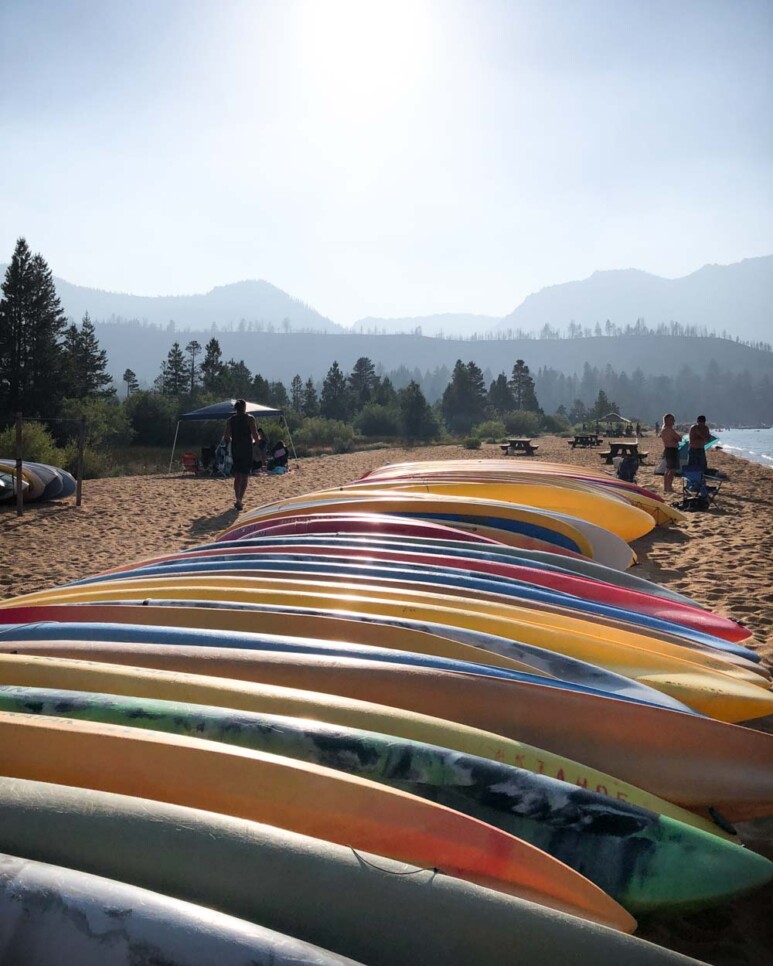 Paddleboard And Kayak Rentals At Lake Tahoe
You can rent kayaks and paddleboards almost everywhere around the lake. Most of the rental places are located at various popular beaches. It's best to make a reservation upfront, as weekends are very busy at the lake.
Check out our Lake Tahoe SUP Guide to find kayak and paddle board rental places.
Stand-Up Paddleboard Lessons
You can also sign up for a SUP lesson if you haven't been on a paddleboard before and like to learn it.
SUP & Kayak Tours & Rentals
Check out the SUP & kayak tours and rentals below. These are actually the most affordable tours and rentals we have seen at Lake Tahoe.
Bring Your Own SUP
We love paddleboarding and decided to buy our own SUPs as we are using them often in the summer. It gives us more flexibility and they amortize pretty quickly if you use them a few times.
If you also prefer to rather own a paddleboard yourself but are hesitant because of the cost, we wrote a post about affordable inflatable paddleboards that you can bring everywhere you want.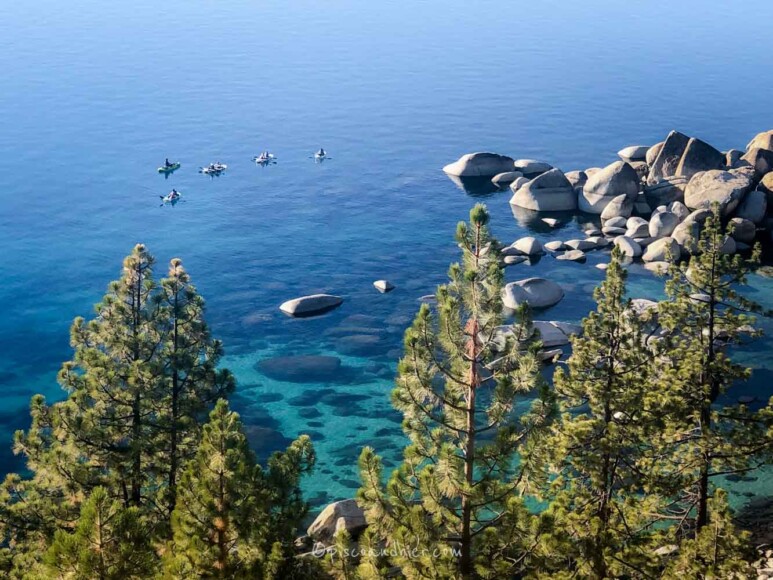 Where To Rent The Clear Kayaks From Instagram?
If you want to rent the clear kayaks that you probably have seen on Instagram, visit The Wild Society located at Kings Beach.
Heads up though, the clear kayaks and SUPs are a lot more expensive. But then again, they are special and what better place to use them than at Lake Tahoe?!
---
4 | Float On The Truckee River
Floating the Truckee River is another favorite activity of ours at Lake Tahoe in the summer. Truckee River starts at the lake in Tahoe City and goes all the way to Truckee and beyond. Hence the name Truckee River!
Floating with Truckee River Raft Co.
You start the float in Tahoe City at Truckee River Raft Co. and end at River Ranch Lodge & Restaurant. If you do the float with Truckee River Raft, you will actually park your car at the endpoint and will be bussed to the starting point. Once you are done with the float the company will take care of the rafts.
Floating Truckee River On Your Own
If you decide to bring your own floats you will have to figure out parking and logistics yourself. Meaning you will need at least two cars. One at the start and one at the end of the float.
Floating down the 5 miles on the Truckee River is slow and mellow with an occasional faster rapid. It takes about 3 hours, depending on how many stops you make along the way. It's super fun.
5 | Spend The Day On A Boat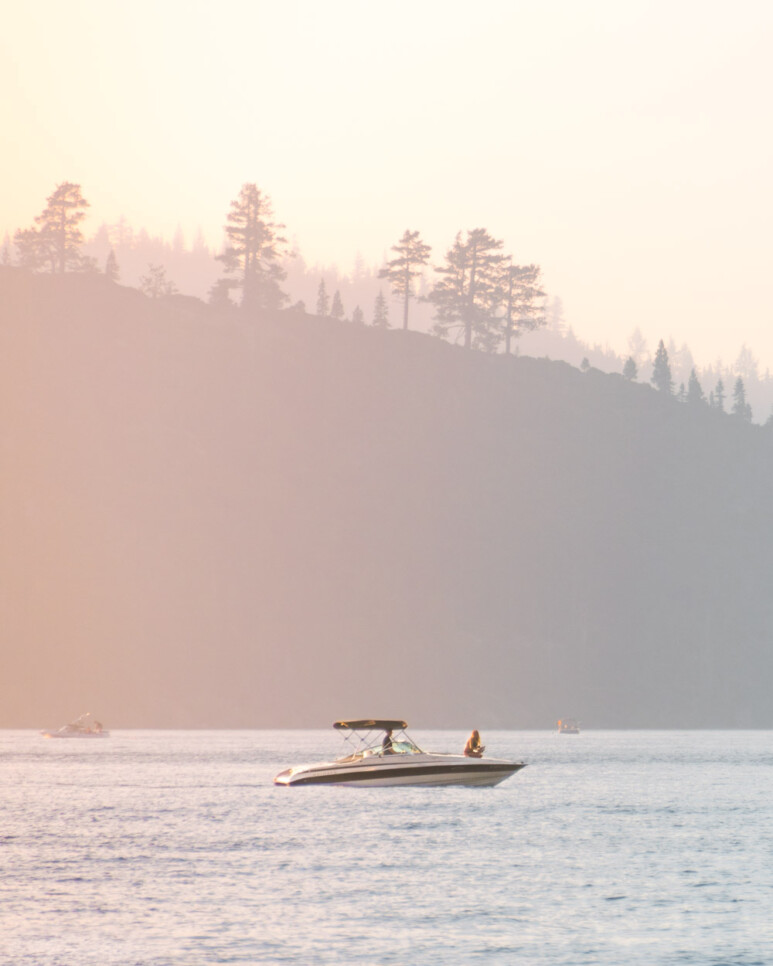 In the summer in Tahoe, you will see boats everywhere on the lake. From rental kayaks or paddleboards, jet skis, pontoon boats to high-speed powerboats, there are all kinds of boats for all kinds of activities on the like. There are even boat cruises on Lake Tahoe.
Boat Rental Places In Tahoe
Boating is one of the most popular activities in the summer in Tahoe. There are launch ramps and rental places all around the lake. Tahoe even has a boating app that you can download to your phone.
Since there are so many boat and water sports rental places it's best to do a search for rental shops around the area where you are staying or a particular place where you want to spend the day at. Otherwise, it's completely overwhelming with all the available options.
As an orientation, we listed a few boat rentals of major spots around Lake Tahoe.
Boat Rental Places At Lake Tahoe
Charter A Boat With A Captain
If you don't want to drive the boat yourself, you can charter a boat with a captain. For instance, there is a private group boat charter at Emerald Bay or an amazing sunset boat charter tour for small groups.
6 | Take A Tahoe Boat Cruise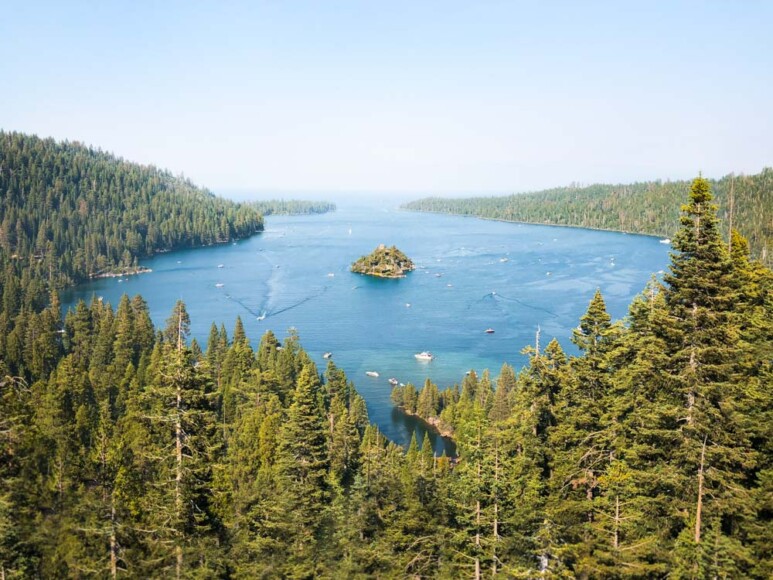 There are also plenty of fun cruises on Lake Tahoe. From classic booze cruises to a wine tasting cruise to an Emeral Bay cruise or dinner cruise on the MS Dixie II paddle wheeler. You can even take a sailing cruise on Lake Tahoe.
Here are some popular boat cruises and charters:
7 | Go Camping In Lake Tahoe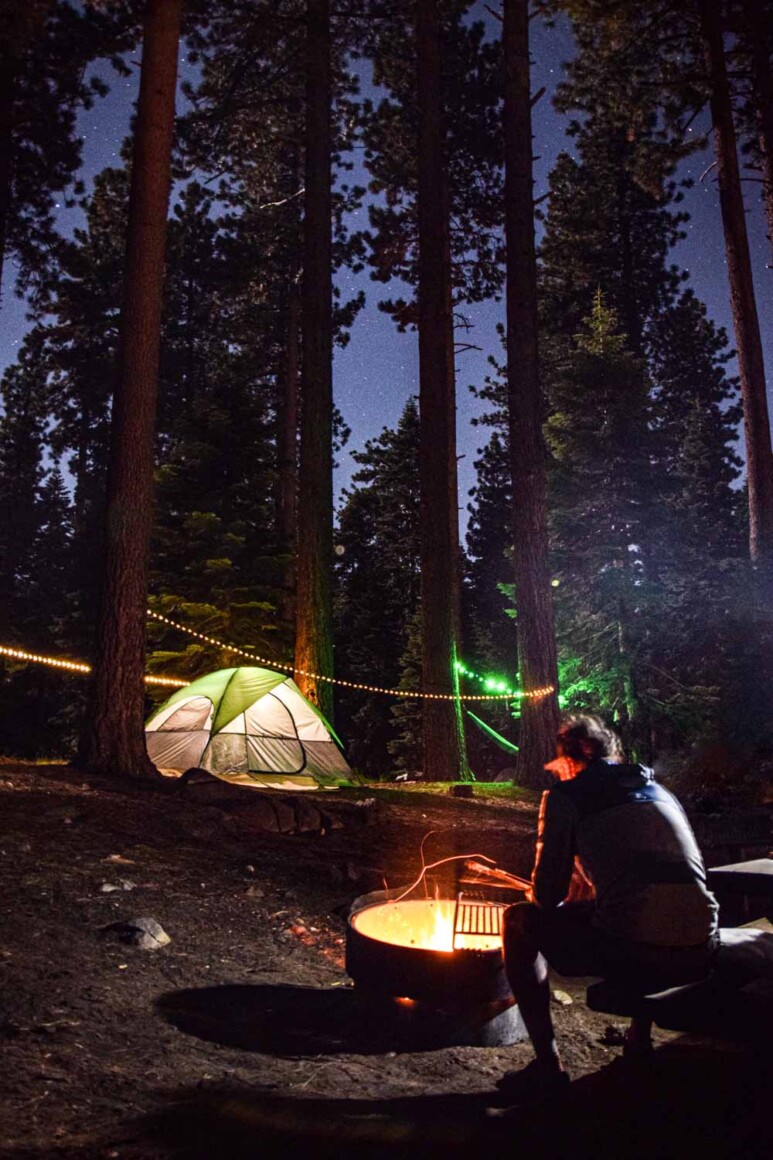 A lot of people like to go camping in Lake Tahoe. There are some really nice campgrounds around the lake.
Camping At Fallen Leaf Lake Campground
One of our favorite campgrounds in Lake Tahoe is Fallen Leaf Lake Campground. The camping area is next to Fallen Leaf Lake which is located between Emerald Bay and South Lake Tahoe.
Fallen Leaf Lake is very pretty and secluded and an oasis in itself. Perfect to hang out and chill in the hammock.
---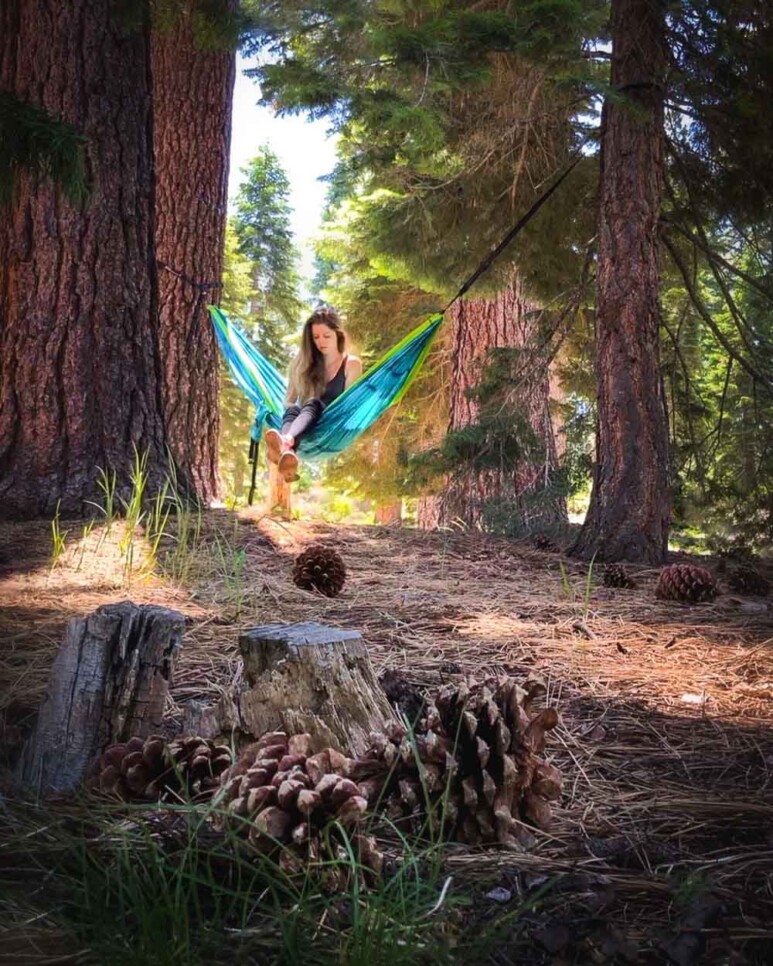 The campground itself is pretty too, especially, when you manage to get a spot closest to the lake. At these camping lots, you will have plenty of space with just the forest and big redwood trees around you.
---
Reserving A Camping Spot In Tahoe
Usually, as with so many campgrounds in California, Fallen Leaf Lake is very popular and you need to book your spot early in advance. Or, get lucky when spots open up due to cancellations.
Check out availability and reserve a campground at Fallen Leaf Lake here.
More Campgrounds In Lake Tahoe
Here's a selection of the campgrounds closest to the lake. There are even more campgrounds in the Tahoe Donner area and on the Nevada side. Book early as campgrounds fill up super quickly.
---
8 | Go To A Summer Music Festival In Tahoe
9 | Check Out Local Tahoe Breweries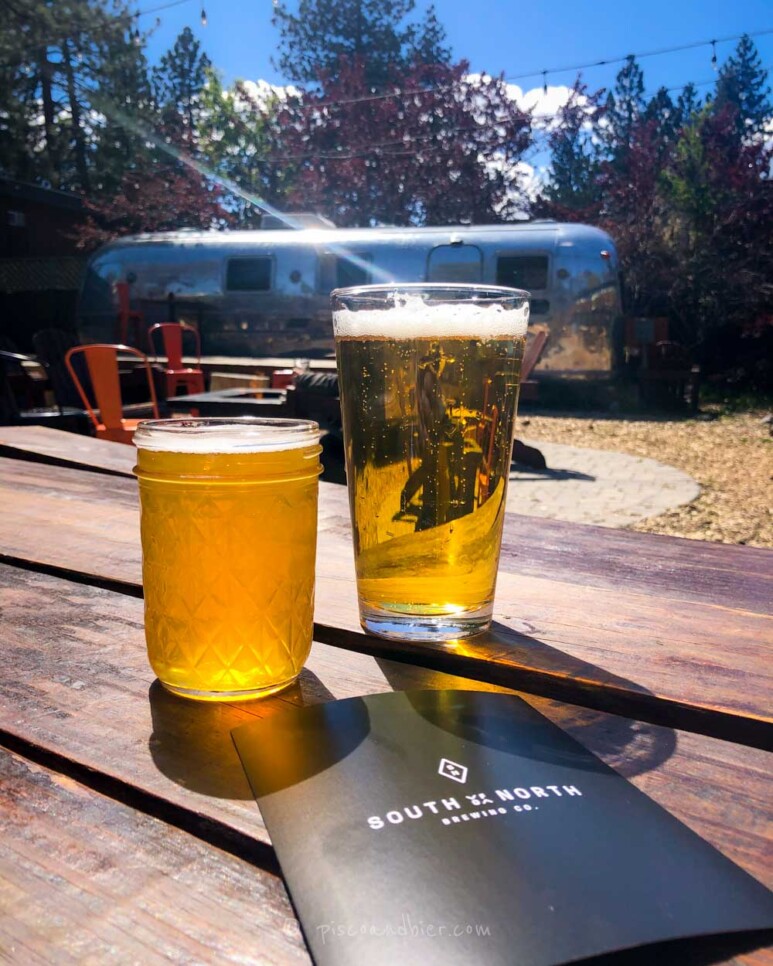 There are a ton of craft beer breweries around Lake Tahoe.
You can go on guided breweries tours or create your own brewery adventure. Be sure to drink responsibly and have a DD.
Here's an overview of some of the coolest breweries around Lake Tahoe.
10 | Soak In The Hot Springs Around Lake Tahoe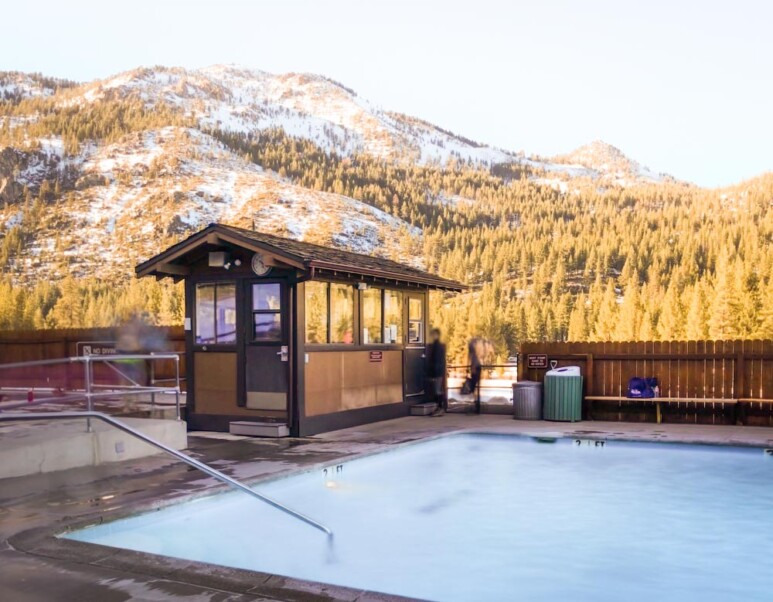 Relax At Sierra Hot Springs
Sierra Hot Springs is a non-profit retreat and workshop center with lodging located in a beautiful alpine valley at Sierraville. There are several natural pools around the Sierra Hot Springs property. Some are scattered in a more secluded area between trees.
The main area has a larger hot springs pool, sauna, changing room, and a smaller hot spring tub under a dome structure. Clothing is optional.
You can also get a massage and have a vegetarian meal at the restaurant.
Grover Hot Springs Near Markleeville
Grover Hot Springs is hidden away in secluded Hot Springs Valley near Markleeville South of Lake Tahoe on the eastern side of the Sierra Nevada.
There are two hot spring pools at Grover Hot Springs with alpine vistas of granite peaks and wildflower meadows.
Lake Tahoe Hot Springs Guide
Check out our Tahoe Hot Springs Guide if you want to know more about the natural hot springs near Lake Tahoe.
---
11 | Watch The Most Magical Sunrise At Emerald Bay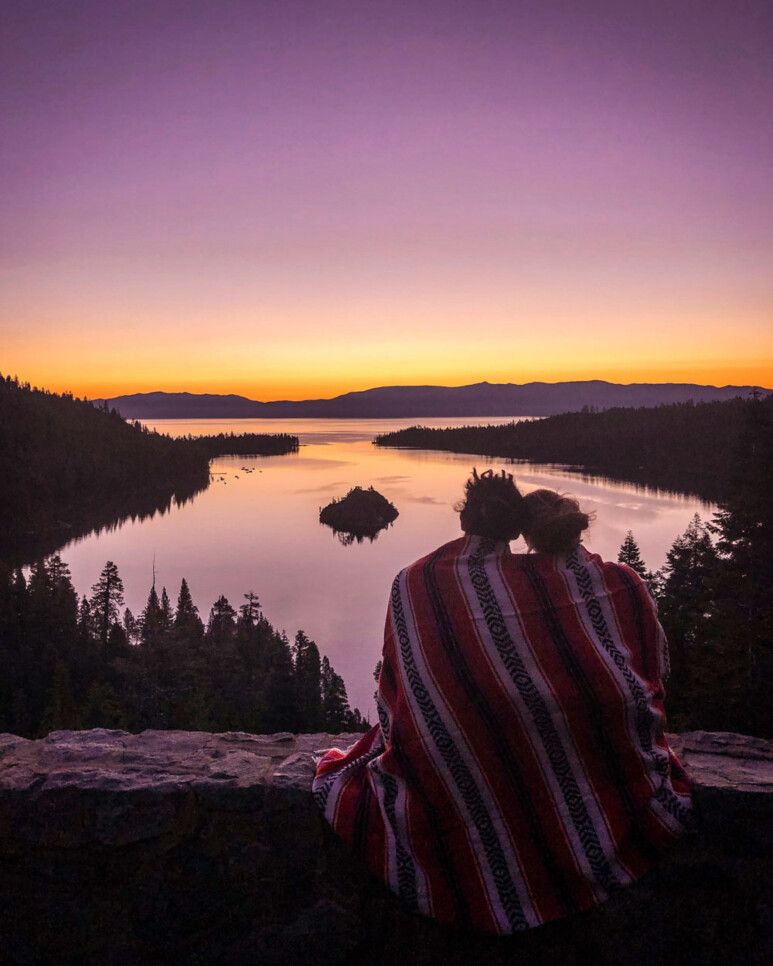 The most magical sunrises or sunsets of Lake Tahoe can be seen in South Lake from Emerald Bay. Watching the sunrise is one of our favorite things to do in Lake Tahoe in summer and in winter. The colors are insane all year round!
You have to get up really early to see the sunrise at Emerald Bay, but it's totally worth it. Check out our post with the best photo spots around Lake Tahoe to find out more about Emerald Bay and other awesome photo locations in Lake Tahoe.
If you are not an early bird, Tahoe sunsets at Emerald Bay are amazing too!
---
12 | Take A Lake Tahoe Photography Tour
If you are into photography and would like to know the scenic spots at Lake Tahoe, there is a photo tour that shows you the best photo spots in Lake Tahoe and gives you photography tips by an experienced photo guide.
You can choose between a half-day photography tour or full-day Lake Tahoe photo tour. Both are small groups.
The half-day Ultimate Scenic Tour features Emerald Bay and a beach with views of Mt Tallac.
The full-day Grand Tahoe Around The Lake Tour, circles all around Lake Tahoe and provide as many photo locations as possible.
---
13 | Stroll Through The Historical Railroad Town Of Truckee
Truckee is a historic railroad town in the North of Lake Tahoe. There are many little local shops, bars, and restaurants along the main road that invite for a little shopping spree and dining.
A store we really like is California 89. They sell local merch inspired by the Truckee-Donner and Tahoe areas. Check them out, their sweaters and shirts are really cool.
14 | Explore Donner Lake's Vista Points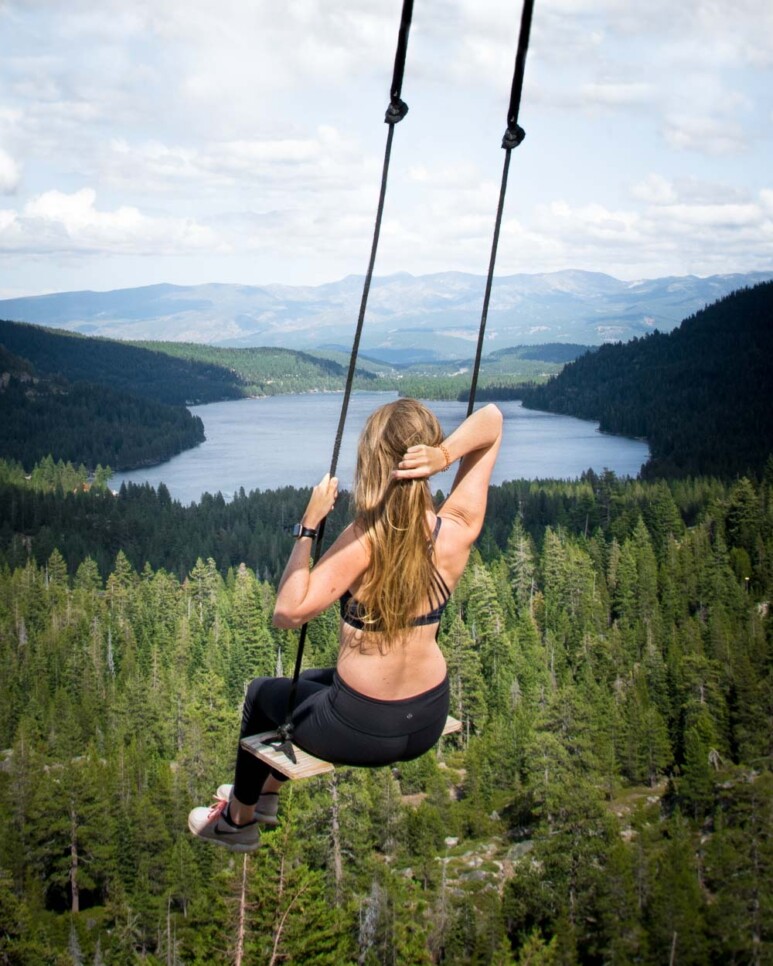 Not only Tahoe has amazing views. At Donner Lake Vista Point and Donner Summit Bridge, you can see nearby Donner Lake from above.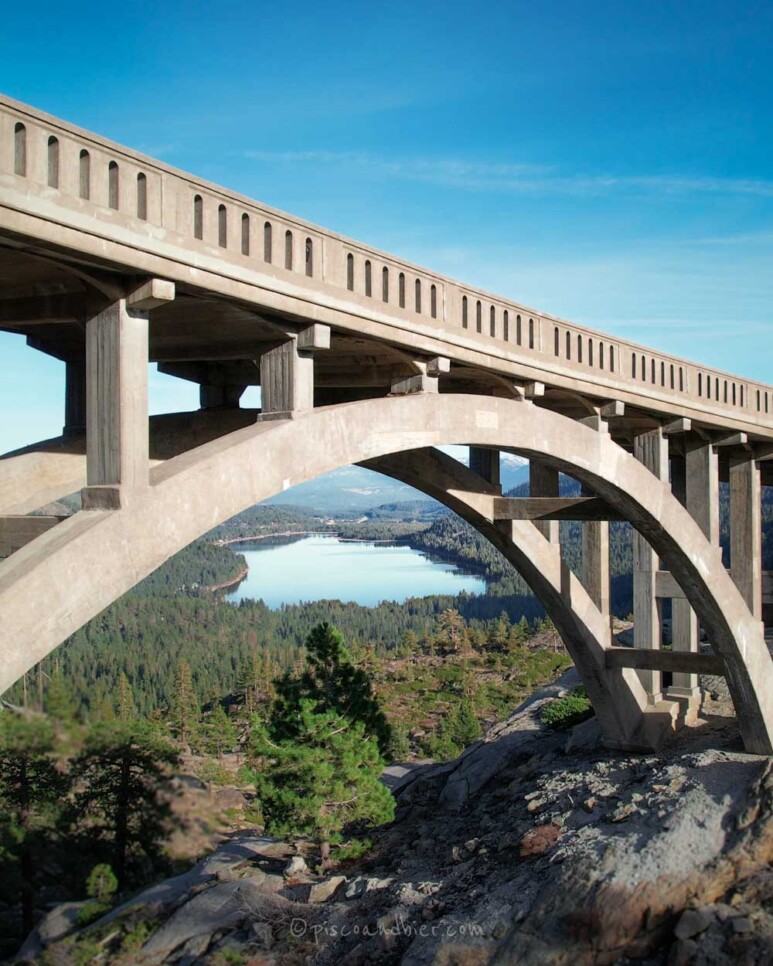 Donner Vista Point and Donner Summit Bridge are on the way along Donner Pass Road, which goes parallel to I-80. Depending on where you arrive to Tahoe or leave Tahoe you may pass by the Donner area.
Instead of taking Highway 80, take a little detour on Donner Pass Road and make a stop at several vista points along this scenic drive. Eventually, you will hit I-80 again.
15 | Drive The Tahoe Scenic Drive: The Most Beautiful Drive In America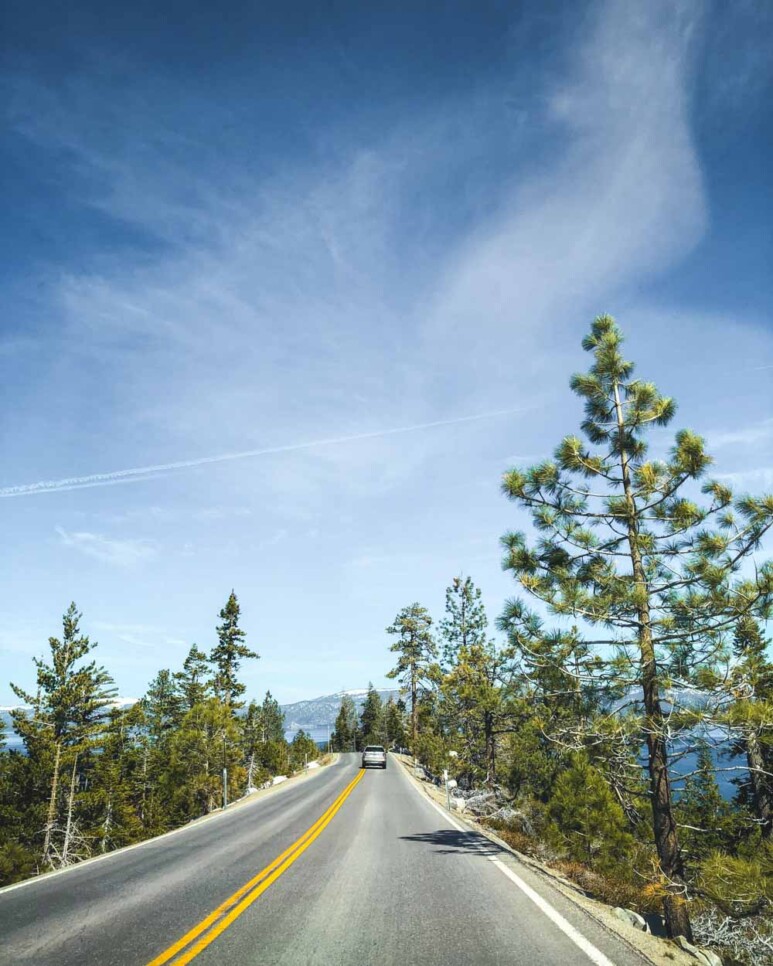 High on the list of the best things to do at Lake Tahoe in summer is to make the drive all around the lake.
Yes, you can drive all the way around the lake! It's about a 72 miles long roundtrip and you can start and finish anywhere you like.
The tour around the lake is said to be the most beautiful drive in America. The drive is very, very pretty and there are many vista points along the way.
If you don't want to drive yourself or didn't come by car to Lake Tahoe there is a small bus tour that makes the 72-mile drive all around the lake.
Learn more about the Lake Tahoe Circle Tour here.
16 | Explore The Tahoe Ski Resorts During Summer
Wait, what? Ski resorts in summer?! Yes, you can still go up the slopes in summer. During summertime, however, without the snow of course.
It's pretty interesting the see what lies underneath the slopes what is otherwise covered by the snow in the winter.
The major resorts Heavenly and Squaw Valley run their gondolas in the summer months starting in May / June.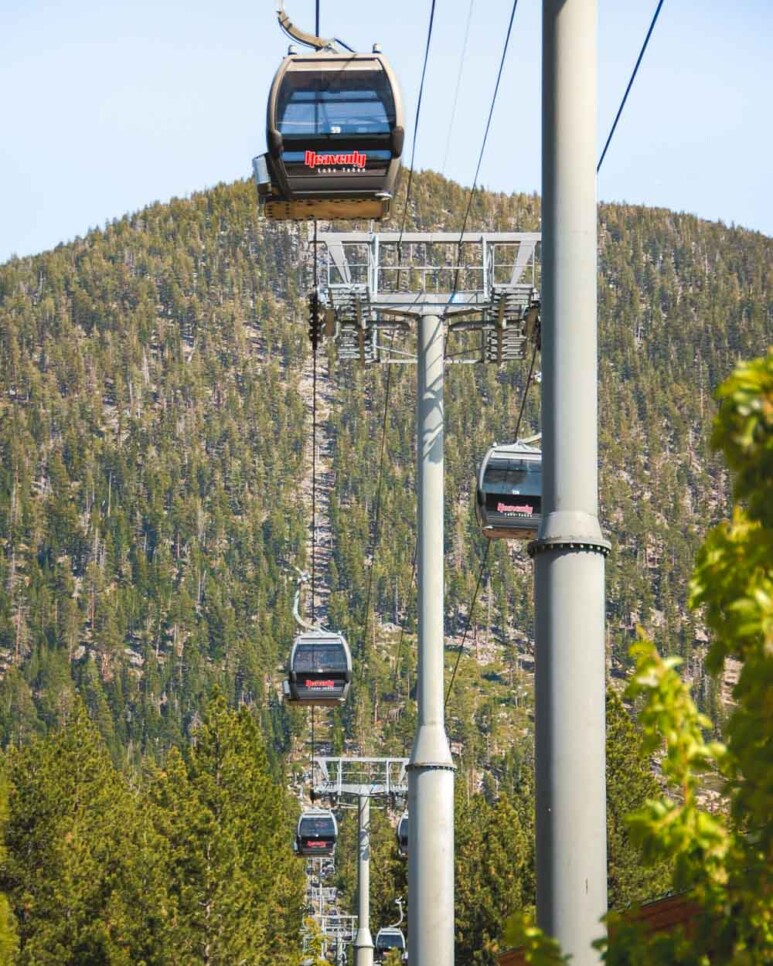 Scenic Gondola Ride At Heavenly
In the summertime, the Heavenly Gondola usually opens for Memorial Day Weekend at first and then later in June daily for the summer months.
The 2.4-mile ride up Heavenly Mountain is pretty amazing. You will have panoramic views of Lake Tahoe from the gondola. On the way up, the gondola makes a stop at an observation platform where you can get out to take photos of the picturesque panorama.
Once you reach the top and exit the gondola, you can get up the mountain even further with the Tamarack Express chairlift. At the very top, you will have some of the best views of Lake Tahoe.
There are also a bunch of hiking trails ranging from beginner to expert on Heavenly Mountain.
On top, Heavenly has a mountain coaster and tubing which is fun for kids and adults alike.
The ski resort has a bunch of access points but the gondola that runs up the mountain in the summer is located in Heavenly Village in South Lake Tahoe.
Nearby Heavenly Village you will find many restaurants and shops, rental places as well as lodging in South Lake Tahoe.
Squaw Valley Arial Tram
Squaw Valley's Aerial Tram climbs up 2,000 vertical feet from Squaw Village to High Camp in about 7 minutes.
Up there on the mountain, besides amazing views, High Camp offers roller skating in the summer as well as a restaurant and a bar. Not to forget there is also the infamous heated swimming pool and hot tub which opens in spring and stays open until the end of summer.
Taking the tram is also a great way for people who want to hike the upper elevations of Squaw Mountain without having to first hike up all the way to High Camp.
17 | Visit An Old Western Town And Ride Historic Train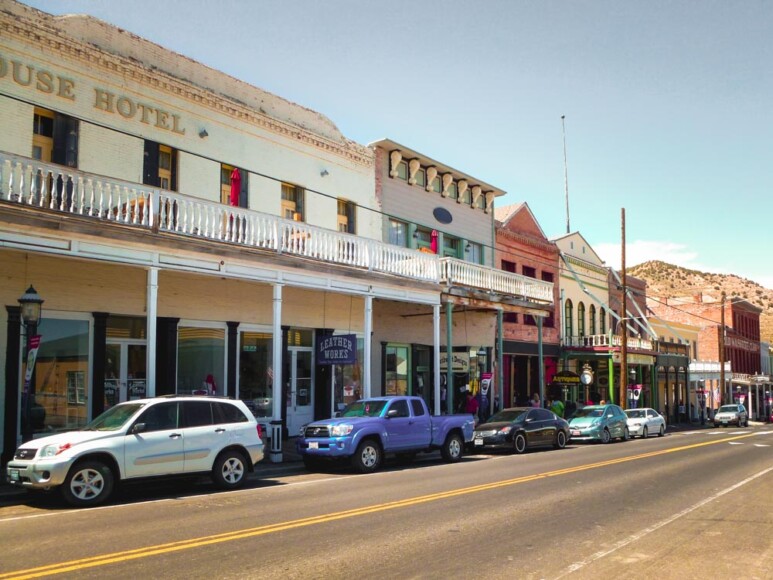 Virginia City is a historic western town North of Lake Tahoe. It takes about an hour's drive from Lake Tahoe.
Virginia City Tour
On this full-day bus tour from South Lake to Virginia City you follow the Pony Express Trail and discover the former boomtown of Nevada's silver strike.
During the guided western tour, you will learn about the pioneers that settled the area and will be able to explore the old western town of Virginia City. Another highlight of the day is the ride on the historic Virginia and Truckee Railroad.
Learn more about the Virginia City tour here.
18 | See Lake Tahoe From Above
There are several helicopter tours to see different areas of Lake Tahoe from a bird's eye perspective.
---
19 | Stay At A Cabin, Relax And Enjoy A BBQ
Not every day needs to be an activity day. We also like to just stay in a nice cabin, hang out and chill, and cook a nice meal or make a BBQ.
Check out our post about cool cabins to stay at in Lake Tahoe with a list of amazing A-frame cabins and Airbnbs rentals.
20 | See The Wildflowers In Lake Tahoe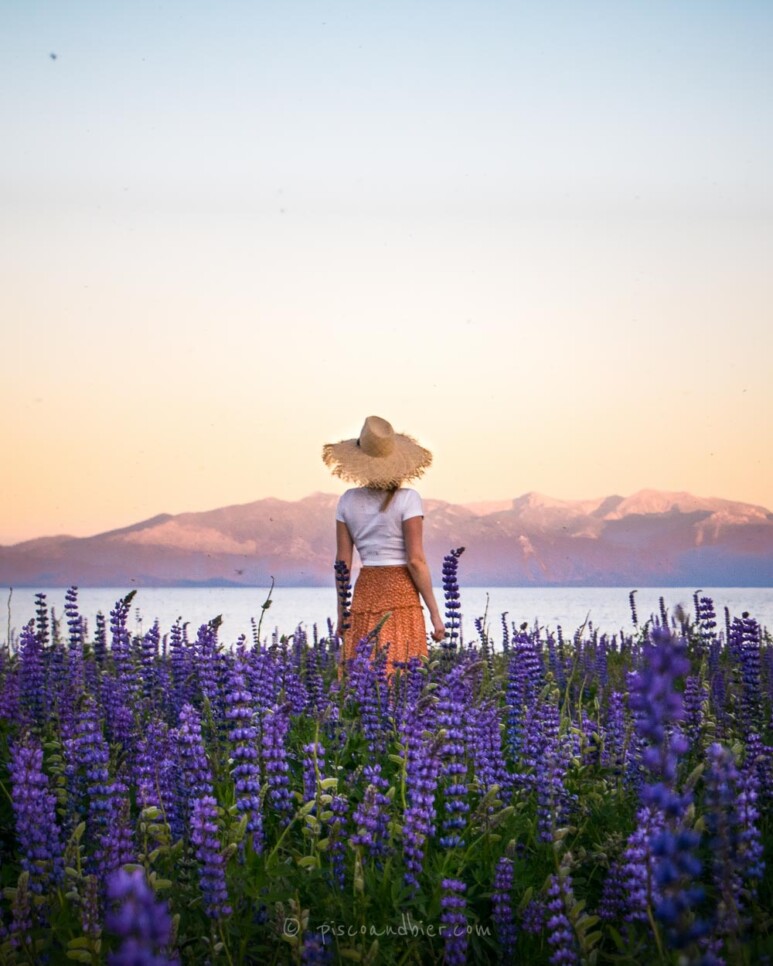 During the summer months of June and July, you will be able to see the lupine wildflowers grace Lake Tahoe and its surrounding area. 2022 in particular is a special year since Tahoe hasn't seen a super bloom like this year's in 7 years.
---
Lake Tahoe Summer Guide
Where To Stay Around Lake Tahoe In Summer
There are a ton of options to stay around Tahoe. Where to stay depends largely on the activities you are planning to do during your Lake Tahoe vacation.
The lake is pretty big and it can take a long time to get from North to South, especially on a busy weekend. If you are looking to do activities in South Lake, for instance, it's best to stay in that area. Otherwise, you will have about an hour's drive coming from North of the lake. And the same the other way around.
On the other hand, if you don't mind the drive and have time, go for it, it is a very pretty drive.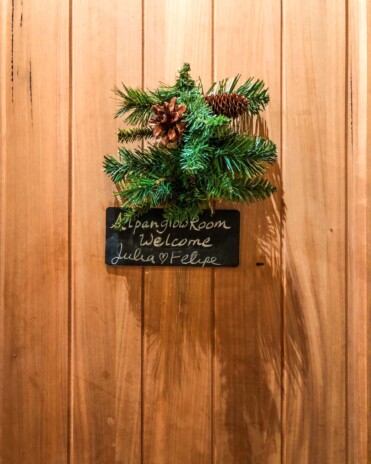 Lake Tahoe Summer Vacation Rentals
If you have a group of friends or a family a cabin at Lake Tahoe is a great and affordable option. We prefer renting cabins as they most of the time have nice outside patios where you can prepare a BBQ and hang out and relax.
In general, renting a cabin is a really nice Lake Tahoe experience. Check out Airbnb to find Tahoe vacation rentals.
---
Hotels To Spend A Lake Tahoe Summer Vacation
If you are not a group of people a cabin might be too much. When it's just the two of us we book a hotel room in South Lake Tahoe or the area where we plan to do activities like paddleboarding in.
PRO TIP: Always try to book as early as possible for Tahoe stays since hotels here book out super fast and get really expensive.
$$
Budget Hotels In Lake Tahoe
---
$$$
Mid Range Hotels In Tahoe
---
$$$$
Upscale Hotels & Resorts at Lake Tahoe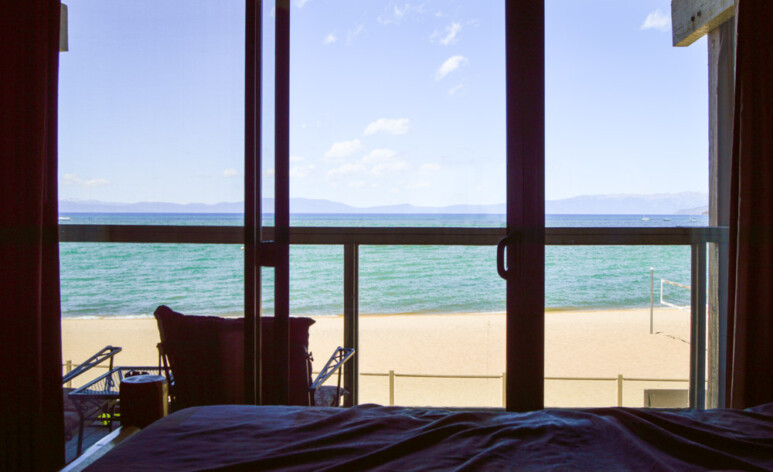 The above photo was taken at Tahoe Lakeshore Lodge & Spa. It was super cool waking up next to the lake every morning and the views from the balcony were just jaw-dropping.
For more details on hotels right at the beach, check out our guide to the most amazing lakefront hotels at Lake Tahoe.
Lake View Hotels In Tahoe
Popular areas to stay in are: South Lake Tahoe, Kings Beach, Tahoe City, Incline Village, and Truckee.
Where To Eat Around Lake Tahoe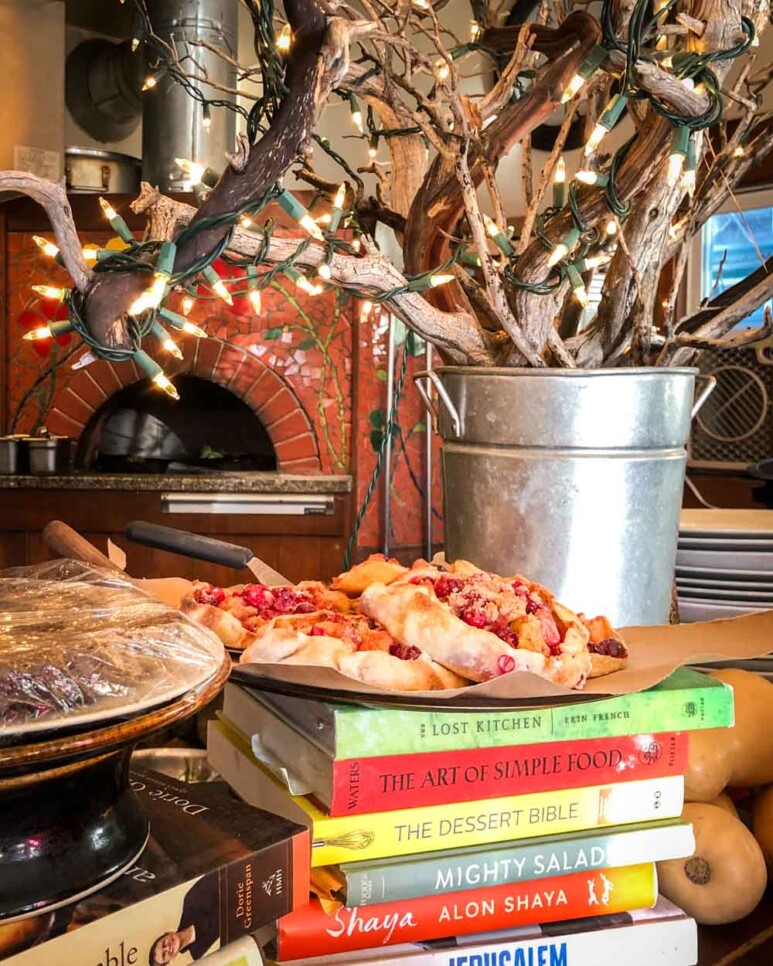 Here's a little overview of our favorite restaurants in Tahoe:
For the coolest lakefront dining experience with amazing Lake Tahoe views, check out our guide to waterfront restaurants around Lake Tahoe.
---
How To Get To Lake Tahoe
Driving To Tahoe By Car
The best way to get to Lake Tahoe is by car. However, since Tahoe is so popular, try not to get to and from Tahoe during rush hour times. Especially if you are driving from and to the San Francisco Bay Area.
Bay Area To Tahoe
Coming from the Bay Area, leaving anytime before 1 pm on a Friday is a good time to avoid major traffic. Of course, not everyone can leave work early. Leaving after 8 pm is also a good option and you will most likely make it to Tahoe at the same time as your friends who left in the afternoon! 😉
Amtrak Train To Truckee
Another way to get to the Tahoe area is to take the Amtrak train to Truckee and use an Uber or bus to get around the lake.
The train is called California Zephyr and goes from Emeryville in Oakland to Truckee in Tahoe.
Fly To Tahoe Via Reno Airport
You can also fly into Reno Tahoe local airport and rent a car to get to Lake Tahoe. That will only save you time if you come from farther away though.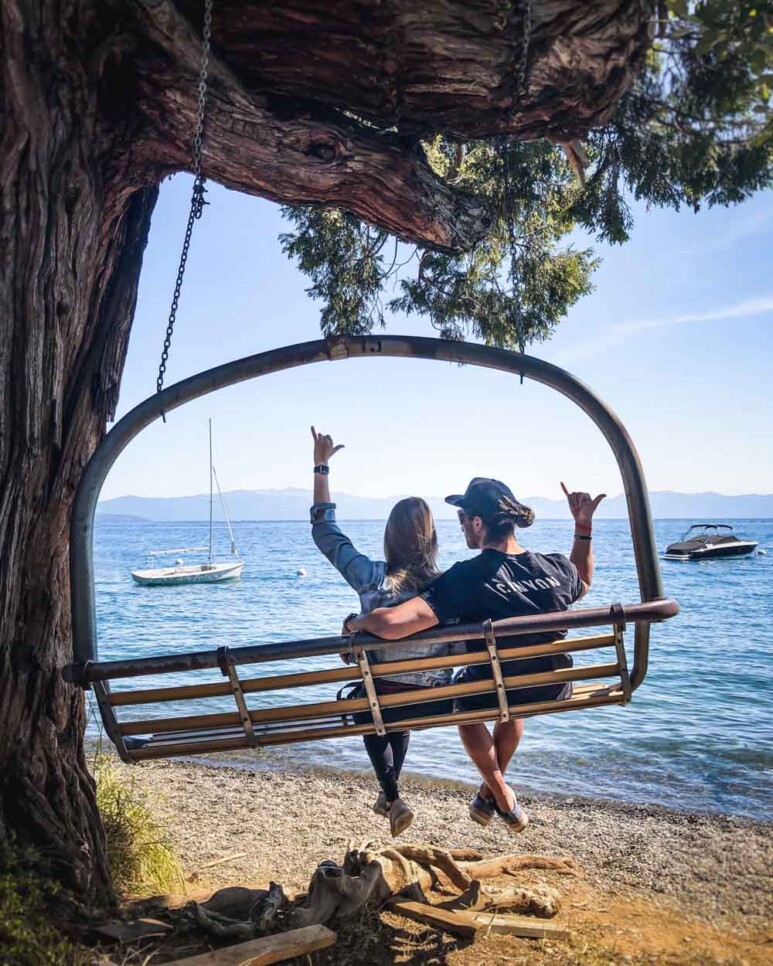 Lake Tahoe Summer Vacation Guide
Top Things To Do At Lake Tahoe In Summer
We hope you found our Lake Tahoe summer vacation guide helpful and got some good inspiration on what to do in Tahoe in the summer.
Have fun in the mountains and hopefully, you love Tahoe as much as we do!
---